How to Roll Using a Paper Filter
There are several different techniques to rolling, and often times people have their own tricks to get theirs rolled just right.  Some people roll from the center outward, some pre-roll the paper and then pack the tobacco inside, and some use a paper filter at the end that is used as a starting point to get rolling.   In this step-by-step guide to rolling I'll explain how to roll using a paper filter; a very basic and foolproof way to have the perfect roll.
What you'll need: 1 Rolling Paper, 1 Index card, or thick paper like it, Ground Tobacco.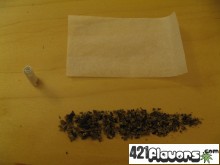 Step 1: Grab an index card and cut off a small rectangle about ½ inch wide and 1 inch long. Once you roll this up it is going to act as your filter and starting point in the rolling process
Step 2: Take your rolling paper and fold the bottom up, creating a small lip  where you can easily put your tobacco.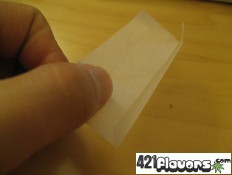 Step 3: Place your tobacco in the paper holding it with your fingers at one end, make sure that it is evenly distributed.  You'll notice that there is space where your fingers are; this is where the rolled up filter will go.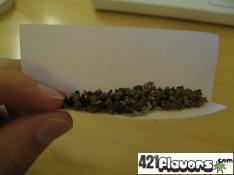 Step 4: Once the filter is in place, slowly roll upwards with your thumb.  The paper should eventually roll around the other side of the filter and tuck in-between.  You have now started the rolling process.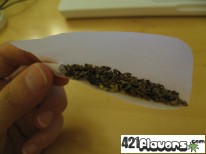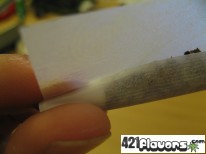 Step 5: After the paper has tucked under the other side you'll have to continue tucking the paper all the way to the other end.  Keep one hand at the end holding tight to the filter so the paper doesn't unravel, and tuck the rest of the paper around the tobacco with your thumb, pressing down and rolling forwards.  This will keep your final product cylindrical and neat.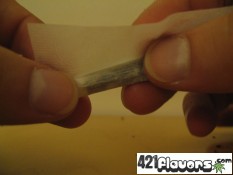 Step 6: Now it should look like this, with the adhesive strip and a little bit of paper left to roll.  Lick the adhesive strip lightly as to not moisten it too much, but to get the glue sticky and ready to seal the deal.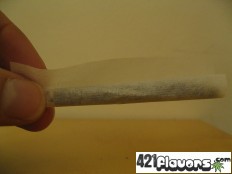 Step 7: Press the adhesive strip down and run your finger from end to end making sure it is sticking.  Now you have yourself a well-rolled treat.  The mouth should look like a rolled up coil and at the end you can take a pencil and pack it in tightly, twisting the excess paper to close it off.
Step 8: Relax, enjoy.
If you'd like to see a video tutorial, please comment and let me know.