The Magic Flight Launch box, a portable vaporizer, has been around for a few years now and the manufacturer claims it is over a decade in development. This review culminates a months' worth of testing the Magic Flight Launch Box, also referred to as MFLB. 421 Flavors is in no way related to Magic-Flight company and this review is based solely on our opinions and experience with the product. We hope you find value in our review of the Magic-Flight Launch Box.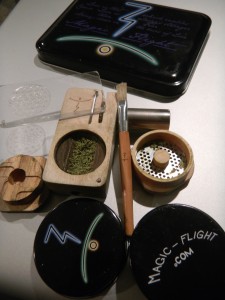 Here is everything that came with the Magic-Flight Launch box:
2 pc. Rechargeable AA NiMh Magic Flight (Glyph) Batteries Formulated to be best batteries for MFLB
1 pc. NiMh AA Battery Charger
1 pc. Magic-Flight Cleaning Brush
1 pc. Glass draw Stem
2 pc. Black Battery Caps
Black Screen Ring and Battery Foam Seal
Black Tin lined with felt
Lifetime functional warranty
The Magic Flight Wood Grinder was extra but I highly recommend getting it because it creates THE most fine grind that works optimally for the MFLB (I even use it for my other vaporizers as well). The wooden grinder includes its own small circular black tin lined with felt that fits it perfectly.
421 Flavor's Magic Flight Launch Box Review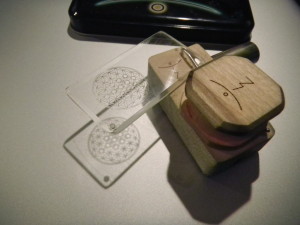 Then there is the unit itself, the Magic Flight Launch Box Vaporizer in all its tiny glory. At first glance you can't help doubt the level of power that the MLFB promises to deliver; I mean, this thing is surprisingly small! The version I'm reviewing is 63.7, which is the current model available for sale. My Magic-Flight Launch Box is made of maple wood and has the Tree of Life design etched into its acrylic cover. Alternatively, you can choose from a whole slew of different laser etchings or none at all. They even carry 3 wood variations — maple being the cheapest starting at $119, cherry is $20 more at $139, and then walnut $30 more than maple, listed at $149.
Normally during the unboxing I take photos, but I was just so eager to try out the Launch Box that I completely forgot.  (I was happy to see that the manual opens with a quick-start section in the first few pages, as the entire manual totals a fat 48-pages.) Literally within seconds of opening the box up, I was vaping. I couldn't believe the amount of vapor it put out. Even the price seemed overly reasonable starting at $119 for the un-etched maple wood MFLB. Reflecting back though, I still managed to use it incorrectly the first few times despite getting a ton of vapor… I figure you fail less if you just watch one of the videos.
Aesthetically, it's not the prettiest looking vaporizer on the market, and one friend even said that a wooden box for a smoking device looks "cheap."  If you're going to dwell on that idea too much then you've already made up your mind. I overlooked the cheap comment considering how well the MFLB works. As MFLB newbs, vaping through the glass draw stem was more useful just so we could see the vapor accumulation and know when to pull, but after the first week we liked it much more without. The company calls this "native" style, and in our opinion native style gave us better hits. A few people said the stem made it look like a crack pipe, and with that comment we stopped using the stem.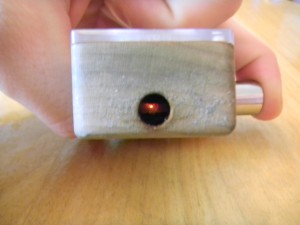 The Magic-Flight Launch box heats up fast. Within 5 seconds of pushing the battery in you'll notice vapor starting to form and float from the mouthpiece (when looking through the device to the ignition light). When you see the vapor accumulating inside, that signals it's time to pull. Spacing out pulls/drags from the MFLB provides the thickest vapor production from the device. This method is also called "kissing" the MFLB. (As newbies though we found it easiest to simply take long and slow drags from the device until we had the method down.) I found it extremely easy to shuffle around plant matter inside the trench as well, similarly called 'flipping the box'.  After every 2 or so pulls we would simply give the box a big shake without worrying about being gentle. This meant we were able to get a LOT more drags while using a lot less plant matter. The conservativeness of this device is one of the best things we can tout it for, seconded only by the amount of vapor it produces once you get the hang of it. So it should be noted: there is a learning curve with this device that can be easily overcome by watching videos or simply reading the manual slowly.
During our month with the MFLB, we threw it every curve ball we could. We took it out on the windiest days without fail, we dropped it (accidentally) and we even tried it indoors around lots of people having yet to arise any suspicion. It passed every test we could throw at it. We had to really try and find any negatives… and that's when we put the battery to test in group smoking sessions. It's a good thing the MFLB kit provides an extra battery because we found that in group settings with 4 or more people, we'd go through the first battery rather quickly.  While the other battery would be in the charger we were able to finish the first and then always have a charged (even partially) battery ready when someone wanted more. What's really nifty about the MFLB though is that the batteries are interchangeable for the most part. While users on the forums advise against using brand name batteries, they praised the Powerex by Maha for both rechargeable battery and charger. The Stock batteries are 2250mAh while the Powerex are 2700mAh. The Powerex charger and and batteries are touted by MFLB forum users as having a greater longevity than stock batteries and faster heat up times. Although the new "Glyph" MFLB batteries are now formulated to last longer and burn stay efficient longer though. Magic-Flight's battery FAQ recommends that upgraded batteries should only be used once you are accustomed to how MFLB works so as not to waste any plant materials with faster heat up times.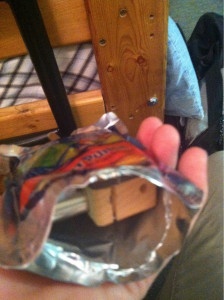 Battery — We really love the fact that you can swap out the batteries and it comes with more than one. You never have to physically plug in the charging station and wait for a recharge while you're in the midst of a vaping session. Even better is that you can get other battery upgrades or just buy more batteries and never have to worry about ending your vape session.
Stealth — Sizing up at 2.5″ long, 1.25″ wide and  0.9″ in height, this thing is uber-small and extremely discreet. Discreet to the point that it can fit in the palm of your hand, and the actual interaction between the MFLB and you can be concealed by a cupped hand around the MFLB. The MFLB is by far one of the most discreet vaporizers available without having to camouflage itself or disguise itself as something else. It does not let off any smell during the heat up or inhale so as long as you can hold in some vape, you will not have to worry about the MFLB emitting any illicit smells.
Quality — First off we should note that this comes with a lifetime functional warranty and doesn't require that you ever have to change a screen. The warranty covers everything that makes it work except for the light inside it, which we assume will eventually stop working one day but shouldn't be a big factor once you know how to use it. We dropped it a few times… and it still works perfectly. There aren't any electronics in it that you have to worry much about and the technology inside is more of a science. The only reason we deducted a point is that when testing the maple version we found the woody flavor that the maple emits is just not preferable. Supposedly the cherry and walnut MFLB's have a different taste to them and are preferred highly over the maple by other MFLB owners.
Ease of Use — It's frustrating to show my friends how to do it and then they do it wrong and complain they don't get anything out of it. Then again when I first got the thing I did it wrong like 3 or 4 times even after reading the manual  and watching a video… But it still worked even when I was doing it somewhat wrong. The launch box isn't easy to use as a beginner, but once you get the hang of MFLB vaping, it's actually quite simple and can be done quickly and discreetly. Flipping the trench can be a little tedious especially if you're looking for a vaporizer that you don't have to be hands on with, but it literally allows you a lot more drags when flipped between drags. The good news is that you will never have to change the screen and the cleaning process is ridiculously simple and doesn't have to done so frequently.  At the first sign of detriment I gave it a minor cleaning and it worked as good as new. All-in-all it's my new "take everywhere" vaporizer so it's not that hard to use but I had to deduct points because of the learning curve.
Review Overview
Battery - 8.9
Stealth - 9.4
Quality - 9.4
Ease of Use - 8.5
Pros: Small, discreet, interchangeable batteries, huge vapor production, conservative, fast heat up, and the grinder gives a perfect grind. You can vape with the MFLB in the same room as many other people and if you do it discreetly enough not a soul will know. Many people use the MFLB in public every day and evade suspicion. Fits perfectly in the small pants pocket with a battery. Everything you could ask for in a portable flower vaporizer. The MFLB smell is non-existent during heat up unless you let vapor escape. The base price is $119, practically a steal for what you get.
Cons: Doesn't look aesthetically as advanced or powerful as it actually is. Somewhat difficult to get the hang of…and hard for stoner friends to remember to hold the device horizontally every time. Maple wood doesn't have the best flavor so if you've got the bank I'd advise either cherry or walnut.
Final thoughts: In case you didn't notice, we really loved the MFLB. Major points for the ingenious design of MFLB  in allowing interchangeable batteries and incorporating a new internal stopper that prevents you from overcooking your flowers when you forget to fully pull out the battery. I see no reason to not go with this vaporizer if you're looking for an everyday portable vaporizer and don't mind getting your hands dirty flipping the trench to get more drags from a load. The grinder is a must have accessory with the purchase of the Magic Flight Launch box. You're able to get all the benefits of a vaporizer but in portable form, full flavor, conservativeness, and a healthy alternative to combustion. The vaporizing is on-demand so you always get a fresh hit and the only thing we were able to hate on here was the learning curve.
Useful MFLB Tips, Websites, Pictures and Videos to help you get the most from your Magic Flight Launch Box Portable Vaporizer
Official Magic Launch Box Page & Store — Authorized Vaporizer Distributor of Magic-Flight Launch Box
Official Magic-Flight Launch Box FAQ — Bested only by r/MFLB, the Ultimate Q&A (answering questions especially about Vaporizing Weed in a Magic-Flight Launch Box)
Vaporpedia's Magic-Flight Launch Box Wiki Page
Authorized and Trusted Vaporizer Distributor of Magic-Flight Launch Box
Magic-Flight Launch Box DIY Links:
The one video you need to watch in order to vaporize with the Launch Box properly:

Keys To Perfect Vaporization