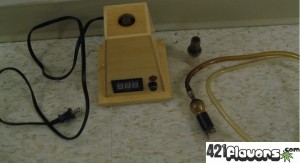 Vaporite Elevation (VR-005)
Price: $50 online
Pros:
Cheap
Digital Temperature
Quick Startup of 5 minutes
Cons:
Digital read is not accurate
Burns your product
Hard to put more product in without touching the scorching hot bowl (use a glove)
Wooden, smells funny after being on for too long
The reason why I came across this vaporizer was because my friend purchased it on a whim and then proceeded to leave it at my house for the next three weeks, forgetting it every time she was over.  Otherwise my taste is too picky for this type of vaporizer, unless you're looking for one where you don't have to spend any money, and you kind of get the vaporizing experience, kinda.
The Vaporite Elevation features a wooden tower with a digital temperature read and a knob for temperature control.  Inside is a ceramic heating element, and at the top of the tower is a hole for you to place the glass bowl into, at the peak of the heating element.  Once you have placed the product in the bowl, you place the tubing on top and inhale.
On this vaporizer, you should aim 20 degrees lower than whatever temperature you are trying to get because the gauge is not very accurate.  Many times people have burned their product because they set the temperature too high, make sure you set the temp accordingly.
I wish I could go on and tell you that this vaporizer does great things, but it really only "does the job." You should buy this if you want to have the vaporizer as you secondary piece and a bong as your primary.  But otherwise, take a little more out of your wallet and find something more to your liking.