I've been getting this question on Twitter a lot recently so I felt I'd answer it in a post. I've gone through 4 Glass Bongs, 3 One-Hitter Pipes, and a countless number of glass bowls. I'll admit that I have even broken my glassware in an attempt to clean it.  That's why I feel that most can learn from my mistakes and share in my victory with the flawless bong cleaning methods I now use today.
If you're going to travel with your piece it's best to keep it clean. Resin smells more than bud! That's the first thing law enforcement would smell on you. A dirty piece is always considered drug paraphernalia — clean, it's nothing more than a tobacco pipe.
Glass Bong / Bowl / Pipe Cleaning Tips:
These are the best ways to clean a bong. If you follow closely you will never need to go out and buy any expensive cleaners, even though they do work. You can use household items as mentioned below. All cleaners work BEST when the piece is warm, so running hot (not scalding) water through it before a clean will give the glass surface the optimal warm temperature.
Don't clean your glass under the influence.. In other words, "Don't smoke and clean." (I broke my first bong that way… the same day I got it.)
When the resin drips out of your bong it's going to get in your sink, drip on your dishes, or get stuck in your drain if you don't clean in the right area.
Make sure you'll have time to let it air dry, the bigger the piece the more dry time.
The dirtier the glassware the more time you'll need to let it soak to get the funky discoloration and (dare I say) YEARS of resin build up to come off.
When it comes to store bought glass and bowl cleaners like "Formula 420," you are in for a serious waste of cash.. Money that can be better spent on other things . . . Especially when the same cleaning result can be obtained using household materials. While most 420 Cleaners definitely work well it may require a trip to the shop or amazon before you can get your bong cleaned and sometimes that isn't always the option when you're smoking discretely. These house hold objects below will get the job done.
99% ISO alcohol (Remember: The higher alcohol % the BETTER, although most people in the states can't get a hold of 70%+ Iso alcohol in stores) Pro Tip: If you're cheap, you can save your dirty alcohol and it works just as good as new
Rock Salt (some people say Rice.. But personally, I wouldn't turn my bong into a rice cooker ;))
Hot water (close to boiling water to soften resin)
Lemon Juice – (optional) is acidic and can bring a clean smell to the bong that the alcohol leaves
The Glass Pipe / Bong / Bowl Cleaner Method:
There are multiple ways to clean a bong but in this tutorial we focus on what we know is the BEST way to clean a bong.
— Always get the temperature of the glass warm to begin the cleaning process. We do this by running hot (but not scalding) water through the glass until it is warm to the touch.
— Pour some (not TOO much) ISO alcohol into your piece, followed by a 2-3 pinches of rock salt. Try to seal off the holes with some sort of plug so the mixture can stay inside. You can cork up small holes and the head of the bong. Some people prefer to use saran wrap and a few rubber bands. Whichever method you use, after the bong is full of the cleaning agent and the carb, head and mouth are sealed, you can shake the piece (albeit carefully so you don't break it). When cleaning a small bong, simply use your fingers to seal the holes.
— Shake the solution around inside. You'll notice that it pulls off the new resin almost instantly. To clean bong resin it may require a few rinses (or a few hours soaking) and shakes before coming off. If after a few rinses the bong is still dirty, it may require an overnight soak. The overnight soak involves fully submersing the piece in a mixture of hot water, ISO Alcohol and Rock Salt.
If you're about to give up all hope for cleaning your piece, there's still more you can do using different cleaning agents. Kush Clean works well on glass for overnight soaks and this allows you to avoid shaking your expensive glass bong entirely. Even dish washing detergent and clothing detergent can get tough grease buildup off your glass. Just make sure you thoroughly rinse it before using it for a smoke again. We've also reviewed other bong cleaning products here.
Note that I recommend the NATURAL approach first and the chemical approach if all else fails. The end result will be a good as new piece.
Remember: The liquid and resin that comes out of your piece will stain all types of materials so try to get it to go directly down the drain.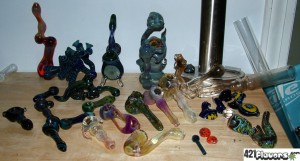 Here's a method for the Acrylic Pipe Cleaning users:
Consider getting a glass piece.. Think about the dangers of smoking plastic. . . Just kidding, read on:
Degreaser is best for plastic bongs. Alcohol will cause it to crack. Dollar General sells store brand degreaser in a spray bottle for about $5. At first glance, it looks like Febreeze. It is so good, the plastic will look almost new when cleaned. Best stuff I've ever seen for acrylic. An old toothbrush will help clean stubborn spots. A round cardboard coat hanger dowel (the kind you hang pants on) makes a good extension for a toothbrush. You can use iso on the metal parts.
Method for Cleaning a Wood Pipe
If you want to clean your wooden piece, attempting to fully soak it in alcohol will warp the wood. So if you really want to clean that wooden pipe than your going to need pipe cleaners and/or a toothbrush. Soak the pipe cleaners/brush in alcohol and use some elbow grease to work out the resin from the crevices. It may take a few brushings to get it clean as new but as always, it's worth it.
Frequently asked Bong Glass Pipe Cleaning Questions
Q: I can't find any alcohol higher than 70% will it still work?
A: Yeah it will work but it will just take longer.. let it soak for 20-30 minutes and then rinse.
Q: Is it true I can smoke the resin when cleaning a pipe, isn't it just like hash?
A: Resin in your bong/pipe is the byproduct of your smoking, it is literally tar and THC. There's something special about this byproduct however. Since it was exposed to heat, the cannabinoids have been carboxylated, making the inactive cannabinoids more potent. For the same reason that the ends of a blunt/joint are always stronger because they are packed with the resin of the smoked material.
Q: Can you collect this resin and smoke it?
A: Yeah, instead of using Salt & ISO alcohol, just use the alcohol and drain the resin filled alcohol into a glass tray. In order for the resin to be smokeable you must allow ALL of the alcohol to evaporate.
"Since concentrated forms of cannabis like kief, hash, BHO, and wax don't contain plant matter – they leave behind little to no residue of tar. The yellow stains in a bong after a session of hash dabs is mostly THC. If you save this 'reclaim', you can smoke it again for a knockout high or bake it into brownies for an incred-edible experience."
Q: Is it possible to clean a complicated glass pipe/bubbler entirely to make it as good as new?A: Absolutely YES! There are a slew of products out there that can naturally clean your your glassware. Most of the time the hardest pieces just require extending soaking.