The claim to fame is that it "Contains Natural Unbleached Fibers" and is "Vegan" to make matters all the more confusing for the average pot head.. or personal cigarette roller. . . especially when the definition for vegan is:
A vegetarian who eats plant products only, especially one who uses no products derived from animals, as fur or leather.
I was under the impression that all rolling papers were made of plant material only..  up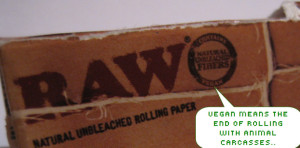 until now.
This product is made in Spain, and contains 32 sheets (standard quantity) of rolling papers per package. The adhesive is fairly strong and I would recommend only going over it with your tongue once in order to prevent taking off the adhesive sugars, and turning the sheet unusable. Do not moisten any other areas except for the adhesive as the paper can be torn very easily.
Pros: Smooth taste, very clean and even burn on a perfect roll.
Meh: Not the best, but far from the worst. It holds up to it's all Natural claim.. but the vegan marketing term throws me off.
Cons: Adhesive comes off fairly easily, so you have to be very careful. Burns fast outdoors. Can be ripped if your not careful rolling the thin paper. I've rolled over 60 of these and found that occasionally the heat can cause the adhesive to become loose if there is any moisture at all when it is being smoked.. very annoying if your on the go.
Consensus: I would recommend this paper ONLY to someone who is very comfortable rolling. Newbs be warned, once you feel comfortable rolling these are certainly amongst the best rolling papers available.